IMPORTANCE & BENEFITS
Why you must
Know your Business (KYB)
Reduce risk
Verifying a company before partnering with it can reduce the risk of doing business with an entity that is involved in financial crimes.
Avoid Penalities
Penalties can be incurred for non-compliance with regulations and standards, which also harms the reputation and integrity of the brand
FEATURES
What do we offer?
AML Screening
Stay compliant with AML regulations and reduce the risk of fraud by screening entities for watchlist presence, PEPs etc.
Global Sanctions
Screen entities for country-specific and global sanctions imposed by various organisations.
PEP Check
A politically exposed person (PEP) is one who holds a prominent public position. Check if the person is on the PEP list.
Adverse Media Check
Filter who have been mentioned in the adverse media for money-laundering or fraudulent activities.
KYC Verification for UBOs
Conduct KYC checks for the Ultimate Business Owner (UBO) to ensure compliance and stop fraud.

Business document verification
Perform OCR on GST, Udyam certificate Shops & Establishments, etc to capture business related details.
GLOBAL CENTRAL DATABASE
Business data is compared to numerous government databases, such as GST, GST from PAN, CIN, DIN, CERSAI and NSDL among others.
WHY CHOOSE US
How we stand out?
Global Sanctions
Covers 1000+ sanctions, fitness probity and warning watchlists.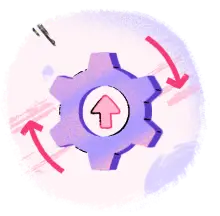 Automatic updates
Sanction and PEP Lists gets updated automatically on a daily basis.
Comprehensive Profiles
Entire Risk Data consolidated into a single profile
Zero front-end Bandwidth
Verify businesses in minutes by simply sending them a link.
Low cost & fast integration
We can orchestrate an end-to-end KYB flow for you. No more multiple vendors.
Customisable UI
Integrate with your product's UI theme effortlessly.
NO-CODE INTEGRATION
Customize and build your own workflow
Configuring and modifying workflows has never been easier! Edit and change your workflow as needed to best suit your product.
STEPS TO VERIFY BUSINESSES
How to perform KYB?
1
Verify Company details
2
UBO Verification
Verify the UBO's identity through a KYC check
Perform AML screening
3
CERSAI
Download the official CERSAI records of the company
4
AML Check
Screen the company for global sanctions, PEPs, watchlist presence, adverse media, etc
Testimonials
Customers love HyperVerge!
Bala Parthasarathy
CEO, MoneyTap
"We want to make credit much easier and faster for the larger population and not only the elite few. HyperVerge is a team of very smart people from reputed colleges in India and they have cracked the process of identity verification using Al/ML"
Rachel Nguyen
Director, CIMB Vietnam
"CIMB is proud to be associated with HyperVerge over the past year. We've had a phenomenal experience partnering with them for our eKYC journey."
Krishna Mohan Vedula
VP Payments, MPL
"We were able to reduce the number of cases of cyber crime complaints or chargebacks after we went live with HyperVerge,"
Mahima Garg
Chief Risk Officer, slice
"Even at scale, we've never had escalations. Teams have resolved any issues with the HV team seamlessly. This is exactly what we want."
Dhinesh Potnuru
Product Head, IndMoney
HyperVerge made our lives easier through the whole customer acquisition and activation process. We were achieving high business impact after we built in their solutions where there were previously very high drop-offs for the users.
Nikhil Joy
Head of Product, Zest Money
By using HyperVerge's APIs, we cut short the document validation process from 8-10 mins to 10 seconds.