Why trust HyperVerge?
Trained on diverse facial variations and ID formats, our robust AI solutions have onboarded over 750 million users.
0
%
Reduction in drop-offs
0 Million+
Customers verified
0
%
Reduction in drop-offs
User Verification process is broken
Customers Drop-off
Non-personalized workflows.
Friction during verification process.
Non-Compliant
Non-compliance can result to penalties.
Compliance across countries is complex.
Increasing Fraud
Fraudsters taking over accounts.
Creation of duplicate/fake profiles.
High Manual Reviews
Expensive and difficult to scale.
High TAT and poor customer experience.
SOLUTION
Transform your user journey
& accelerate growth
Maximise Conversions
Reduce Manual Reviews
Prevent Fraud
Stay Compliant
No-code userflows
Maximise Conversions
Ensure successful verification in the first attempt and analyse every step of the user's verification journey.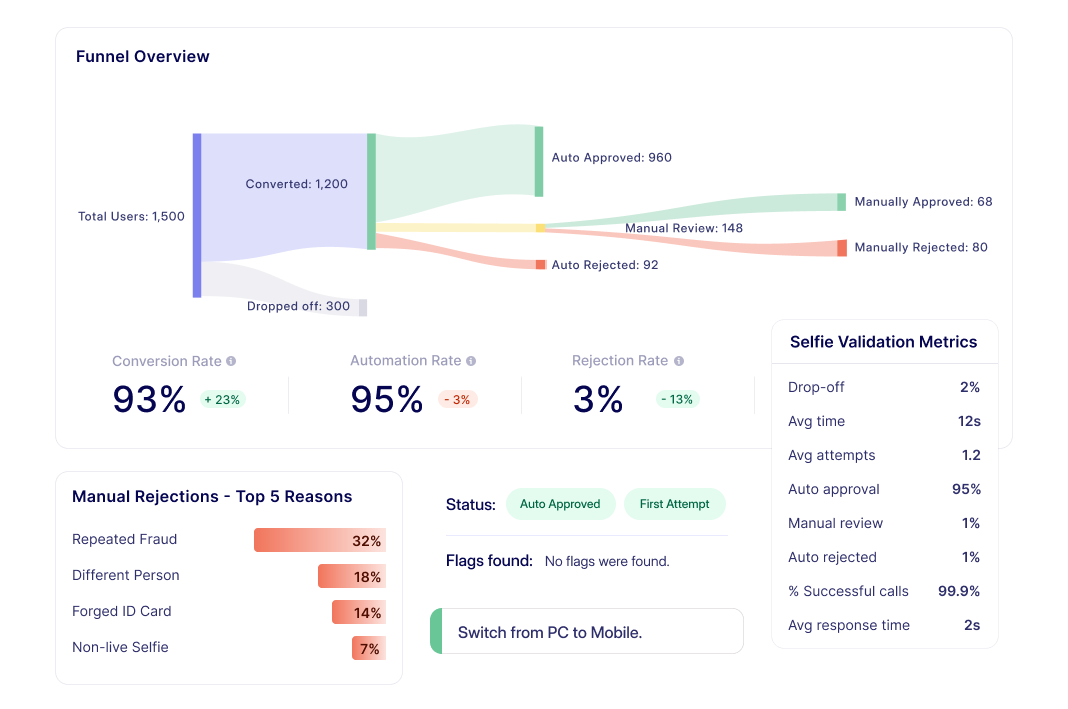 Reduce Manual Reviews
Achieve straight through processing rates of 95%+. Best-in-class AI, NIST ranked #1 in US & APAC
Prevent Fraud
Stay ahead of fraudsters with comprehensive stack of security measures like Central-DB checks, AML Screening, Liveness-detection & forgery checks.
Stay Compliant
Effortlessly scale to new user segments or countries while staying compliant.
No-code Userflows
Launch verification journeys within minutes and iterate to get the best experience for your users.
10%
Applications flagged using fraud detection
4x
Reduction in Customer Drop-offs
>85%
Reduction in 
Manual Review hours
700+
KYCs a min. handled without downtime

80%
Reduction in Customer Drop-offs
PRODUCT
End-to-End verification made
simple
Document Verification
Quality Checks
Video Verification
Central Database Checks
Liveness & Face Match
Age Verification
Location Verification
Address Verification
PEP + Sanctions
Adverse Media
Face Authentication
Liveness Check
Face Authentication
Face Deduplication
AI-based Forgery Checks
Central DB Checks
Achieve the best global pass rates and fraud protection with one platform. Orchestrate verification checks, code-free at any stage of the customer journey.
Get a free demo
Customise the solutions as per your business
See the average pass rate in your target country
Global Verification, No Limits
With HyperVerge's AI-based platform, verify anything and expand your business anywhere in the world. No document type or country will hold you back.
Significantly reduce drop-offs, manual reviews, fraud and compliance issues
Schedule a call

with our team
Tailored business
workflow
Get 30-day free
trial
Subscribe if you
find value
We are compliant and secure at our core.
#1 in Global Face Recognition in US & APAC
AICPA | SOC2
iBeta Quality assurance
Best-in-class Regtech solution 2022
Financial action task force
GDPR
Go-live in
4 hours!
Integrating is a hassle-free activity with our Web &
Mobile SDKs.
Our low-code workflow saves developers time &
enables you to Go-live within hours.
The clarity with which HyperVerge has documented helped us make an easy choice over other vendor.
Java Script
Android
Swift
Flutter
React Native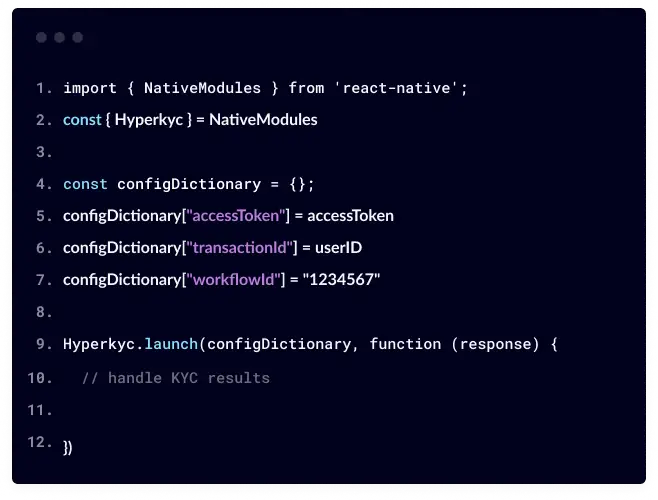 5 ways to reduce
Customer Drop-Offs


and manual reviews
Customers love HyperVerge!
"We want to make credit much easier and faster for the larger population and not only the elite few. HyperVerge is a team of very smart people from reputed colleges in India and they have cracked the process of identity verification using Al/ML"
"CIMB is proud to be associated with HyperVerge over the past year. We've had a phenomenal experience partnering with them for our eKYC journey."
"We were able to reduce the number of cases of cyber crime complaints or chargebacks after we went live with HyperVerge,"
"Even at scale, we've never had escalations. Teams have resolved any issues with the HV team seamlessly. This is exactly what we want."
HyperVerge made our lives easier through the whole customer acquisition and activation process. We were achieving high business impact after we built in their solutions where there were previously very high drop-offs for the users.
By using HyperVerge's APIs, we cut short the document validation process from 8-10 mins to 10 seconds.