INTRODUCTION
About Ahamove
Ahamove is an on-demand logistics service in Vietnam which provides users with a platform where truck drivers and consumers can connect. It is an Uber-like service for logistics. In a market, where there is no consistent price or quality and too many middlemen, AhaMove was founded in 2015 with the mission to bring value to drivers and reduce the cost for consumers.
CHALLENGES
According to the latest report by Google, Temasek and Bain & Company, Vietnam has added 8 million digital consumers since early 2021 and this has resulted in a 53% growth in e-commerce.
Vietnam is the third-largest e-commerce market in Southeast Asia after Indonesia and Thailand. With such a booming market situation, Ahamove expects to become the leading logistics platform to serve the micro-SME as well as SMEs in Vietnam. Ahamove was looking for a potential partner whose system could meet the ever-changing demand of a logistics platform like Ahamove.
Manual process of customer onboarding
To onboard customers, Ahamove used to verify applicants manually. This process was time-consuming; it took from 4 to 12 hours for one customer to be able to start using Ahamove's services. A manual verification process is prone to delays and frequent human error. For customers, verification was time-taking which slowed down Ahamove in scaling up to its full potential.
A faster, automated verification process was of utmost importance for Ahamove to ensure an enhanced customer experience which would result in increased conversion rates. Ahamove wanted a partner who could provide customized solutions according to their products and requirements.
Detect bad actors/fraud at scale
The Ahamove app has a monthly user base of 300,000 as of late 2021. With thousands of orders every day and new users signing up on a daily basis, system stability is extremely important for Ahamove.
We spoke to Tran Le Hoai Bao, Head of Product at Ahamove. He said that Ahamove has a lot of customers that are on boarded at the same time and that's why it is necessary to ensure the accuracy of information to minimize the risk of misappropriation. "The numbers can range from a few thousand to several tens of thousand customers. The performance always has to be stable. Moreover, the authentication must also be really accurate. Because if the success rate is too low, it cannot ensure the customers' experience later," he added.
The logistics industry primarily works on cash on delivery (COD) as a mode of payment so the risk is also very high. To detect bad actors at scale, Ahamove needed an automated customer onboarding experience which would balance user experience and risk. All in all, Ahamove wanted a partner who could work on issues of system stability, eKYC accuracy, and product-specific customization.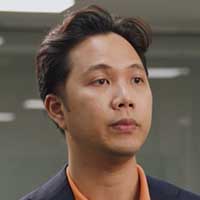 HyperVerge has a lot of experience in the eKYC field, so their solution is complete and meets many of Ahamove's requirements. Their system is also very stable. With HyperVerge solutions, the customer growth elasticity can be more than 30,000 every month
Tran Le Hoai Bao
Head of Product
SOLUTION
Ahamove set out to automate its identity verification process and selected HyperVerge as its partner. At first, AhaMove was a bit skeptical about whether HyperVerge tech will work in the Vietnamese market. However, all their doubts were put to rest soon – the technology worked seamlessly. The initial scope of work for HyperVerge was to verify customer documentation. This expanded quickly to include HyperVerge KYC stack for Ahamove customer onboarding. Further, Ahamove also identified fraud and invalid documents by plugging HyperVerge's Fraud Detection tool.
HyperVerge provides SDK and APIs to help Ahamove to verify customers' personal information, along with checking the liveness of the authenticated person. After successfully authenticating, Ahamove conducts customer classification and onboarding completely through the app itself. In case the customers cannot be verified due to lack of information or wrong details, Ahamove and HyperVerge jointly store the authenticator's information. They can then use this data to authenticate or analyse for the next eKYC cases.
The AI and ML Model application of HyperVerge helped Ahamove in reducing the risks associated with cash on delivery as a payment mode, and at the same time, ensuring that the customers were onboarded quicker.
Why was HyperVerge selected as preferred partner?
Ahamove wanted an experienced partner who could help and support them with market information and new technology. Here, HyperVerge fit all the parameters. HyperVerge supports a range of identity documents from different markets which helps in improving the accuracy of their ML model, added Tran Le Hoai Bao. Given HyperVerge's vast experience in eKYC and their performance, Ahamove decided to go ahead with them as their onboarding partner.
Tran Le Hoai Bao said that HyperVerge is a very enthusiastic team and they always try to set up the most suitable solutions for Ahamove. "HyperVerge's team continuously exchanges information with us about the market and suggests new features and technologies which we can implement to keep improving our product," Bao said.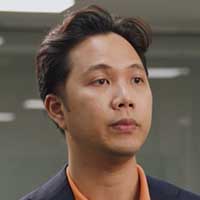 HyperVerge has very stable performance, particularly when Ahamove has a high number of customers signing up for their services. In addition, HyperVerge has a large repository of data from different markets which helps in improving the accuracy of their ML model.
Tran Le Hoai Bao
Head of Product
IMPACT
With the help of HyperVerge solutions, Ahamove was finally able to do away with manual processes. The whole customer verification process has been reduced from 12 hours to 5 minutes with the help of the HyperVerge eKYC solution.
The automated customer onboarding process has significantly reduced the turnaround time – users can now start using Ahamove services within five minutes. With this, Ahamove can scale up much faster, that too without worrying about bad actors.
All this has also helped Ahamove in improving its customer service especially after the Covid-19 pandemic.
EXECUTIVE SUMMARY
Ahamove automates KYC process to onboard customers
<5 minutes
Customers verification using HyperVerge's eKYC solution
1,000-10,000
Number of customers on boarded at a time