50%
Reduced Drop-Off Rate
95%
Straight-through Processing
$300M+
Saved in fraud losses
~10 Sec
Document collection TAT
Go Global
Let's Visualize Our Scale
Trained on diverse facial variations and ID formats, our robust AI solutions have onboarded over 700 million users
0 Million+
HyperVerge Onboardings
OUR NATIVE AI
Highly accurate AI models powering seamless onboardings
Our proprietary AI models are engineered to work in real time even in low bandwidth environments, on low-end devices and enable us to innovate fast & add custom AI checks as new needs are identified
When did making users do more actions become acceptable?
Our single image passive liveness technology enables you to convert more users by improving CX and verifying liveness with just a selfie and without any complex gestures or videos.
AI that works for all races, ages and genders
Our models have been trained extensively on diverse facial variations and therefore produces highly accurate results regardless of race, age and gender.
Ensure images meet standards
Our AI models are engineered to ensure all compliance standards are met and you get the photos with all the checks you need.
We are Certified!
Received iBeta certification for passive single image liveness
Ranked in the top 10 globally for Facial Recognition algorithms
Our evolving AI stops rising ID frauds
Fraudsters are getting very innovative with ID frauds. Our AI-powered solutions defend you against various types of fraudulent activities.
Jio selects Hyperverge for lightning fast customer activations
4 Days to 5 Mins
Activation Time reduced drastically
5X
Revenue generated with fast activations
"HyperVerge delivered way more than what was expected. Couldn't have asked for more."
Product suite
We make it easy to verify users, identify & prevent frauds
Businesses across the globe trust HyperVerge to deliver the most seamless customer onboarding experience while preventing frauds.
ID Verification
Video KYC
Face Authentication
Face De-duplication
End to End Identity Verification Platform
Onboard users instantly across the globe with our high accuracy AI models for liveness detection, facematch & ID verification.
HyperVerge Video KYC
Onboard users remotely with very high confidence over video, with or without assistance from an agent.
HyperVerge Authentication
Authenticate repeat users & transactions instantly. Deliver a better customer experience while preventing frauds.
HyperVerge De-duplication
Fool-proof system to detect synthetic identity frauds in milli-seconds.
Testimonials
Customers love HyperVerge!
Bala Parthasarathy
CEO, MoneyTap
"We want to make credit much easier and faster for the larger population and not only the elite few. HyperVerge is a team of very smart people from reputed colleges in India and they have cracked the process of identity verification using Al/ML"
Rachel Nguyen
Director, CIMB Vietnam
"CIMB is proud to be associated with HyperVerge over the past year. We've had a phenomenal experience partnering with them for our eKYC journey."
Krishna Mohan Vedula
VP Payments, MPL
"We were able to reduce the number of cases of cyber crime complaints or chargebacks after we went live with HyperVerge,"
Mahima Garg
Chief Risk Officer, slice
"Even at scale, we've never had escalations. Teams have resolved any issues with the HV team seamlessly. This is exactly what we want."
Dhinesh Potnuru
Product Head, IndMoney
HyperVerge made our lives easier through the whole customer acquisition and activation process. We were achieving high business impact after we built in their solutions where there were previously very high drop-offs for the users.
Nikhil Joy
Head of Product, Zest Money
By using HyperVerge's APIs, we cut short the document validation process from 8-10 mins to 10 seconds.
Customer Stories
Learn how we supercharge businesses across industries
Fintech
Crypto
Gaming
EdTech
Logistics
Telecom
Fintech
Reduce drop-offs at the top of the funnel while providing the most seamless experience
Crypto
Increase customer conversions during onboarding while staying compliant.
Gaming
Stop collusion frauds and stay compliant with local regulations
EdTech
Verify identities of proctors & students for online exams and learners for online certifications.
Logistics
Onboard agents, drivers, delivery partners in a few seconds, reduce manual reviews and mitigate frauds
Telecom
Reduce SIM activation time and increase conversion rates exponentially
by developers. for developers.
Go-live in 4 hours!
Integrating is a hassle-free activity with our Web and Mobile SDKs. Our low-code workflow saves developers' time and enables you to go live within hours.
"The clarity with which HyperVerge has documented helped us make an easy choice over other vendors"
Javascript
Android
Swift
Flutter
React Native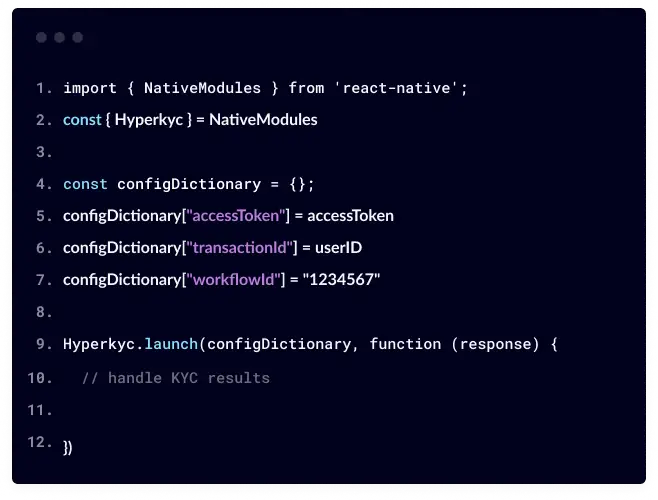 Pre-built SDKs
Easy integration with 10 lines of code across 5 languages
Verify by link
Send link to verify customers with zero lines of code
No-code UI Customization
Build custom UIs to go with your product
No-code Workflows
Build custom workflows without having to write any code
Customer Support
Receive fanatical support, at every step of your journey
With a team of several dedicated specialists, rest assured that we will not leave any stone unturned to keep you satisfied.
"Kudos to HyperVerge support team for everlasting support whenver we need. The team is always ready to hear and help us out in the best way possible!"